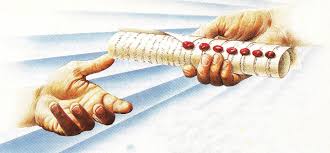 Copyrighted Image? DMCA
The revelation of Jesus Christ, which God gave him to show to his servants the things that must soon take place. He made it known by sending his angel to his servant John, who bore witness to the word of God and to the testimony of Jesus Christ, even to all that he saw. Blessed is the one who reads aloud the words of this prophecy, and blessed are those who hear, and who keep what is written in it, for the time is near. -- Revelation 1: 1-3 (ESV)
The Book of Revelation is quite often the least preached from Book in the Bible throughout churches today. It is filled with complicated imagery and swaths of passages that need prophetic interpretation, so some reticence is understandable. To be honest, when we decided in my weekly Bible study to start Revelation last week, I had reservations. Perhaps because of how little it has been covered. The other reality of course is that the modern purpose driven church model does not allow the preaching of true end times realities. Sure you might here a resounding "Amen" when someone says come soon Lord Jesus but God addressed the exact same ignorance once through the Prophet Amos:
Woe to you who desire the day of the Lord! Why would you have the day of the Lord? It is darkness, and not light, as if a man fled from a lion, and a bear met him, or went into the house and leaned his hand against the wall, and a serpent bit him.Is not the day of the Lord darkness, and not light, and gloom with no brightness in it? -- Amos 5: 18-20 (ESV)
I can feel the spiritual pride welling up in many already who believe that these concerns are not theirs. In this pre-tribulation world we have been taught that we do not have to work out our salvation with fear and trembling. Yet the Bible says to take heed if you think your are standing firm lest you fall. Do not lose sight beloved that these words were for the Nation of Israel. The verses that follow display that they too thought their outward displays of pseudo-piety were enough:
"I hate, I despise your feasts, and I take no delight in your solemn assemblies.Even though you offer me your burnt offerings and grain offerings, I will not accept them; and the peace offerings of your fattened animals, I will not look upon them.Take away from me the noise of your songs; to the melody of your harps I will not listen.But let justice roll down like waters, and righteousness like an ever-flowing stream. -- Amos 5: 21-24 (ESV)
Take away from me the noise of your songs! I will not listen to the melodies of your finely tuned choirs. Where is the justice and righteousness? These things are not preached. These things are not taught. Instead you will get a five part sermon series on your grand purpose to serve in the Usher Ministry because of Jeremiah 29:11, which is not even written to you! It is time we stopped the ever-flowing stream of carnal Christianity and get back to all Scripture. The first week we met on Revelation we spent four hours on just eight verses. God always delivers. So let us exposit the opening of the Book of Revelation. Revelation is a letter written by the Apostle John. While we may not know the actual intended audience, the opening verse removes all confusion:
The revelation of Jesus Christ, which God gave him to show to his servants the things that must soon take place.
Sometimes we read verses and move past them without even considering. God does not waste a single verse in His Word beloved. Even for what may seem like just a cordial opening to an epistle we can find God speaking to us. Teaching us. So unpacking this seemingly innocuous verse we start with the simple fact that this revelation belongs to Jesus Christ. The Apostle John is the chosen vessel to write but the contents are what Jesus Christ Himself has chosen to reveal to us. This is no small point beloved. The world has been attacking the Bible as being merely penned by man for millennia. Recently, the church has joined in the doubting of Scripture. For example, mega-church heretic Andy Stanley recently tried some verbal gymnastics to try and pretend he did not preach against the inerrancy of Scripture, which he most certainly did. But it goes far beyond Stanley, as he was the only one willing to admit it. This is the same theology taught by the experiential Christianity that is taught by the New Apostolic Reformation churches, Bethel and Bill Johnson, and Mike Bickle's IHOP. Just watch the recently released movie "Holy Ghost Reborn" and you will see a concentrated effort to demean Scripture in lieu of personal experience. Recently disgraced mega church pastor Perry Noble once told his congregation that the people who wanted to go deeper into the word were the "jackasses" in his church. This new age thinking is permeating much of the modern church that pays lip service to Scripture but views it as a "box" that people like to use to contain God. So it is no wonder to me that the very first thing Jesus gets out of the way is to remind us that this is HIS revelation. As is the entire Bible:
All Scripture is breathed out by God and profitable for teaching, for reproof, for correction, and for training in righteousness, that the man of God may be complete, equipped for every good work. -- 2Timothy 3: 16-17 (ESV)
The second takeaway from this opening sentence is why God has placed Revelation at the end of the Bible. Much of the Bible is historical narrative and letters written in real time to various churches. Revelation is a prophetic book of things that have yet come to pass. Jesus is telling us that He has provided us with this great revelation to show us what must soon take place. Not what might take place. Not what could take place. What must take place! Now the key word here is "soon." Some have mistakenly taken this to mean that the events of Revelation have already taken place. Considering the extreme nature of the judgments coming and the resulting new kingdom, that is simply not plausible. What it does remind us of however is that we ought to be living as if the time is short because the time is not known.
"But concerning that day and hour no one knows, not even the angels of heaven, nor the Son, but the Father only. For as were the days of Noah, so will be the coming of the Son of Man. For as in those days before the flood they were eating and drinking, marrying and giving in marriage, until the day when Noah entered the ark, and they were unaware until the flood came and swept them all away, so will be the coming of the Son of Man. Then two men will be in the field; one will be taken and one left. Two women will be grinding at the mill; one will be taken and one left. Therefore, stay awake, for you do not know on what day your Lord is coming. -- Matthew 24: 36-42 (ESV)
These are the days of Noah beloved. Just as people were unaware right up until the point that the flood came, so they will be unaware right up until the trumpet sounds. Time to God is vastly different than for us. A day is like a thousand years. The usage of the word "soon" is not only meant as proximity in time but how we are to approach the times we find ourselves living in. These things must take place soon. The Revelation continues:
He made it known by sending his angel to his servant John, who bore witness to the word of God and to the testimony of Jesus Christ, even to all that he saw.
This is all about veracity beloved. John is a faithful witness of a faithful witness. In this day and age where spin has overtaken truth it is nice to have one thing we can rely upon. This is one of the primary reasons the world hates Christ and will hate us. Because we know there is an absolute truth. That this life is not about shades of grey where we can feel a little better about our sin. John was a witness to the life of Jesus Christ and to His Word. We have no reason to doubt what Jesus is about to reveal to us regarding the second coming. John bore witness to Christ and Christ to the Father. Revelation is completely and wholly trustworthy.
Blessed is the one who reads aloud the words of this prophecy, and blessed are those who hear,
Considering how little we find Revelation preached in the church this verse should give us pause. In a church culture that turns the word "blessed" into carnal riches this point I think is often lost. We are blessed because of God. We are thus blessed to hear His Word. In Revelation, God is giving us direct insight into the future. About the eternal kingdom and eternal suffering. If someone preaches this they are thusly blessed and if we hear it, we are blessed as well. For these are the days of Noah and we ought not to be found not about the work of the Father. As important is speaking and hearing these words are however, Jesus always teaches us that knowledge without application is useless:
and who keep what is written in it, for the time is near.
It does us no good to merely hear the Word and not be doers. Quite frankly, there is already too much of that poisoning the body of Christ today. We seek out false prophets to give us a word when we have the final revealed word of God before us in our Bible. We listen to sermonettes each week about how wonderful we are that have drive by Scriptures in them, ripped so far out of context it is no wonder we do not keep what is written. As we enter into Revelation, God is teaching us that we need not be afraid of this book. That it is provided through the faithful witness of John, through Jesus Christ. That the things contained in this Revelation are coming soon and we must live our lives within that reality. The sands in the hourglass are running low beloved and we need to be found tending to the Father's business. The Gospel. So we should seek out to speak and hear these words but most importantly to keep them. To keep them and be blessed.
Rev. Anthony