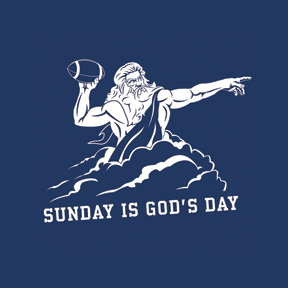 Copyrighted Image? DMCA
The word of the Lord came to me: "Son of man, prophesy against the prophets of Israel who are now prophesying. Say to those who prophesy out of their own imagination: 'Hear the word of the Lord! This is what the Sovereign Lord says: Woe to the foolish prophets who follow their own spirit and have seen nothing! Your prophets, Israel, are like jackals among ruins. You have not gone up to the breaches in the wall to repair it for the people of Israel so that it will stand firm in the battle on the day of the Lord. Their visions are false and their divinations a lie. Even though the Lord has not sent them, they say, "The Lord declares," and expect him to fulfill their words. Have you not seen false visions and uttered lying divinations when you say, "The Lord declares," though I have not spoken? - Ezekiel 13: 1-7 (ESV)
A few years back the false prophet David Taylor said that God told him the Denver Broncos would defeat the Seattle Seahawks. The Broncos went on to lose 43-8. It represented the largest margin of victory for an underdog in Super Bowl history. Such are the fortunes of fortune tellers masquerading as prophets in these last days. You thought they would have learned but this year it appears to be Rick Joyner's turn. Granted, the Kansas City false prophet is hedging his bets far better than Taylor did. He is claiming the actual prophecy came from false prophet Bob Jones who has gone on to face his maker. He also is not saying what side will win but rather attaching a prophecy to a potential Carolina Panther win. As if God is just not sure who is going to win this game. As if God needs to hedge His bets. The absurdity of false prophets.
Much like the way God viewed them through the true Prophet Ezekiel in our key verses. Woe to these foolish men pretending to be prophets! Carnal men who follow their own spirit instead of the Spirit of the Lord and thus have seen nothing! They are like jackals among ruins. Jackals are known as opportunist scavengers. They pick the flesh off the bones and take advantage of weaker situations. Such are false prophets. Their visions are false and their divinations are a lie. They like to say the Lord has declared when He has not spoken to them at all. They prophesy out of their imaginations beloved!
So what has the imagination of Rick Joyner wrought for the Super Bowl? He has officially prophesied that if the Carolina Panthers win the Super Bowl that we are going to see an outbreak of the Third Great American Awakening in this country. The first great awakening is credited in the colonies during the 1700's and saw the likes of Jonathan Edwards and George Whitfield as forerunners. The second great awakening was at the turn of the 18th century. Both are considered pivotal turning points for religious history in this country. While some contend there was also a third great awakening in the late 1800s and into the 20th century, Mr. Joyner obviously disagrees. Either way, he is now on record as prophesying a historical shift in awakening within the Christian sphere in this country and it all hinges upon a football game. Oh what a capricious god Mr. Joyner must serve.
Beloved, this is absolute silly nonsense but it provides an opportunity for Christians who are not from Denver or Carolina to really root for someone in this game. Responsible Christians everywhere should be pulling for the Carolina Panthers. If Denver wins, Joyner gets to walk away but if Carolina wins then his prophecy is in effect. We do not root for the Panthers because we expect revival because God does not prophesy this way. We root for the Panthers so that we can expose Rick Joyner even further for the false absurd prophet that he is.
Rev. Anthony.