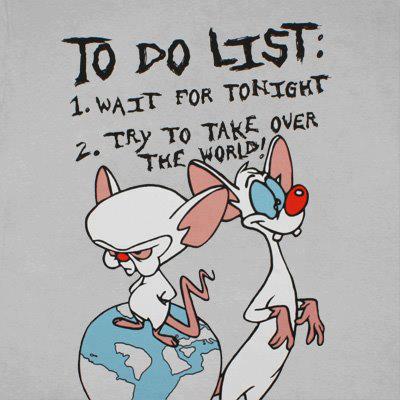 Then I saw a new heaven and a new earth, for the first heaven and the first earth had passed away, and the sea was no more. -- Revelation 21: 1 (ESV)
One of the fastest growing sects of Churchianity is the NAR heresy. Embraced at different levels by varying churches, many people may be part of an NAR church without even realizing it. That is because they rarely brag or promote the concept of the NAR. Bill Johnson for example is a huge NAR adherent and proponent but when asked, he feigns ignorance. This despite the fact that the NAR considers this raving heretic to be a living apostle! Dr. Michael Brown, one of the most learned biblical scholars today pretends the NAR may not even exist even though he supports all of their famous preachers and espouses their doctrines as his own. The NAR teachings are the bricks in the road leading to a one world religion and the eventual acceptance of the mark of the beast by the church itself.
While there are many side teachings associated with the NAR, I tend to refer to four core doctrines. These are things they believe, preach, and actively promote. The first is dominionism. Dominionism is the belief that Christians must conquer the world in order to facilitate the second coming of Jesus Christ. Make sure you understand that because these folks believe Christ cannot come back until they conquer the world. Not conquer militarily but rather through stealth. They believe there are seven key cultural mountains which include education, religion, family, media, government/military, business, and arts/entertainment. As such, the dominionists are hyper-involved politically. This is why so many churches are positively giddy whenever there is a new "Christian" movie in the mainstream. Who cares if it is biblically accurate? They aren't trying to save anyone, just take over arts and entertainment.
The second core doctrine of the NAR is the reestablishment of Apostles and Prophets. The NAR was actually were founded by C Peter Wagner in the late 1990s when he proclaimed that God was raising up new apostles on the earth and lo and behold it was them! How convenient! This core belief has led to the widespread abuse of sheep under the false authority paradigm. This notion that if you fancy yourself a prophet you have to be under another prophet's "covering" and preachers need to be under the authority or covering of an apostle. To give the veneer of being official and legitimate, they have created networks and organizations whose sole function is to prop each other up and lend credibility. Jennifer Leclaire for example recently started her own "prophetic network" where she charges you $300 annually to be under her covering. Leclaire is a rising false prophetess and editor of Charisma News which is one of the main sources for NAR propaganda. So what does this $300 get you? Well if you are an up and coming false prophet and desire to get some street cred, this is how you do it. It is a virtual pyramid scheme of false prophets as Leclaire always references her covering, notorious false prophet James Goll. It all comes down to the money you can fleece from undiscerning Christians.
Todd Bentley is a perfect example. Bentley was a preacher in Lakeland Florida about ten years ago who claimed a great revival was taking place. He was packing in 15,000 people a night into tent meetings. But anyone with a sliver of discernment knew something was wrong with the tattooed former biker from Canada. Besides his bizarre claims of speaking with an angel named Emma, Bentley would routinely punch and kick people who came to him seeking healing and claimed the Holy Spirit told him to do so. I saw him once punch a man with stage four pancreatic cancer in the stomach, collapsing him to the floor. Yet despite this, people loved coming out to see it just like they loved the false Brownsville revival and the false Toronto Blessing before it. All heretical and embraced fully by the church. The NAR saw a potential money making machine in Bentley so they sent down their top stars to Lakeland to anoint him an apostle and prophet, dousing his head with oil and everything. Even Bill Johnson made the trip and led the prayer. It was right after this that Bentley was exposed for having an affair with his secretary and the Lakeland Revival withered away. The NAR was exposed as the frauds they are but people seemingly did not care. Just like they do not care that Todd Bentley still preaches today, divorced and remarried to his secretary. Heck, Bill Johnson officially "restored" him! That is what the network buys you. Nothing is more important than the brand and protecting it at all costs.
The third core doctrine is what I call the false signs and lying wonders. The NAR staunchly believes in the grotesque perversion of the supernatural truths of the Bible. Instead of signs and wonders being real healing, salvations, and the gifts of the Spirit we see gold dust, gem stones, angel feathers and glory clouds. Bethel has their own dead raising team that claims at least 15 resurrections without a shred of proof. The Holy Ghost heresy movies displayed the false healing nature of the NAR brilliantly with "evangelists" using the charlatan leg growing trick and word association schemes used by psychics and mediums to appear legitimate.
The last core doctrine usually seen is the rise of experiential Christianity over sound biblical doctrine. We must realize and discern that the first three doctrines espoused are wildly unbiblical. This is how people fall for such nonsense as holy laughter and kicking people to impart healings. If one applies the mirror of Scripture to any of these practices and beliefs one must conclude that they are man-made doctrines not from God so they promote personal experience over doctrine. People who demand scriptural accountability are deemed legalists in need of a "deeper revelation" of the spirit. The problem of course is they are not experiencing the Holy Spirit. When we leave the certainty of the Bible for the uncertainty of feelings and experience we are essentially turning over what we believe to our lying and deceitful hearts. With the background established let us reason together by reviewing a recent missive from Dutch Sheets, who is a forerunner of the NAR. Within this one simple article we can see the core doctrines of the NAR in operation.
"Who is ruling your world? This question is vital to understanding our authority in prayer. But before we can apply the principle of authority to prayer, it is important to fully understand the meaning and purpose of authority itself. The understanding of authority dives straight into the question, "Who's in charge?" It's a question that has been at the heart of conflict since the beginning. Even now, your outer world fights to have authority over you on a daily basis. It might be your job, or your family, your finances, or something completely different altogether. Whatever the case, living in bondage to your external world was never God's intention for you. You have been called to live under the rule of Christ, and consequently, to rule and reign over the earth in partnership with Him." -- Dutch Sheets
The purpose of this article is to prop up the first core doctrine of the NAR. That we are responsible for conquering this world as we know it to facilitate the second coming of Christ. To this end Sheets asks what seems like a fair and pious question -- who is ruling your world? If this was proffered because far too many Christians pay lip service to Christ while dabbling in the world it would be a completely legitimate query. That is not where Sheets is going with it however. Instead he is tying it to this concept of "authority in prayer"; which is addressed nowhere in Scripture. Just as the devil likes to mix some truth with deception so as to more easily deceive, we see the real gambit here is in the final sentence. According to Sheets, because we have been called to live under the rule of Christ we consequently are called to rule and reign over the earth in partnership with Him? Say what? That does not seem to be what my Bible says in the key verse today. No beloved. This earth is passing away. We are not called to reign and rule over it but to pilgrims and sojourners through it. To point as many people as possible to the cross of Jesus Christ that they might be saved from this world before it is too late. The NAR is obsessed with this world. Saving this world. Reviving this world. This is contrary to the teachings of Scripture. We are not of this world. Our citizenship is found only in heaven.
"This principle is a governmental issue. To govern means "to influence, to exercise authority, to stand in superiority". This means when we pray with authority, we are interceding in a governmental capacity. And this idea of governmental authority is found throughout the Bible. From before the Garden of Eden, the question of "Who will rule?" has been an integral part of the conversation. Lucifer asked this question when he tried to exercise authority over God, and it was the beginning of a struggle that we still face today -- good or evil, life or death, truth or deception." -- Dutch Sheets
This principle is created within the mind of Dutch Sheets. There is no "governmental issue" associated with praying with authority. We are actually called to pray for everyone in authority, not to pray in some realm of superiority over them. The Bible actually says we are to submit to authority. Yes there was the initial desire of Lucifer to usurp the throne of God and THAT has been playing out ever since but Sheets misses the actual point. When he espouses his NAR theology he is in fact trying to usurp the throne of God as well. God has already decreed that only the Gospel will save people out from this world. The issue is not who will rule but rather who will submit? Who will lower themselves? Who will repent? In his pursuit of ruling the world, Sheets cannot see how he damages the true cause of Christ, which is the advancement of the Gospel -- not the advancement of conquering this world.
"While we know God is ultimately victorious over satan, He has still given us the opportunity to triumph over evil on a personal basis, so that we can partner with Him, governing the earth in truth and righteousness. You were created with a nature to do just this. We are called to reign in life through Jesus Christ. In Romans 5:17, the word "reign" speaks of ruling as a king or queen."