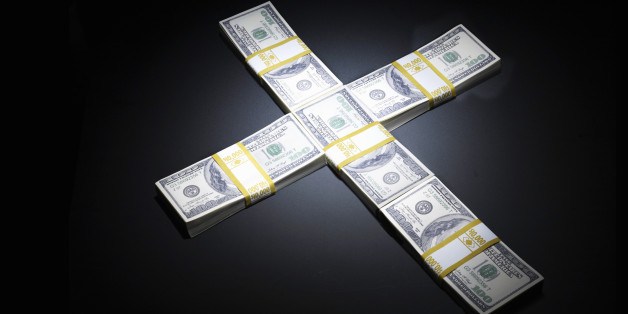 You shall remember the LORD your God, for it is he who gives you power to get wealth, that he may confirm his covenant that he swore to your fathers, as it is this day. -- Deuteronomy 8: 18 (ESV)
http://www.charismamag.com/spirit/spiritual-warfare/33370-7-discernible-signs-the-spirit-of-poverty-is-attacking-you
The above link is to a new article entitled, "7 Discernible Signs the Spirit of Poverty Is Attacking You." I have never heard of the author, Dr. David Williams. His bio sounds nice. Over 30 years as a pastor, over 500 outreach ministries, and over 40 million dollars given to missions through the church over his many years of service. Assuming these missions and ministries were presenting the correct Gospel, this is all very commendable. This article however is not. It is more of the pro-money arguments that continue to infect the church at large today. When people ask me if I think God wants them poor then my answer is yes. If that is the question on your mind and in your heart the answer is a resounding yes because wealth has become an idol unto you. I understand where we get it from. Most in church "leadership" still present wealth as something to pursue despite the numerous warnings in Scripture. This article summarizes some of the faulty thinking that continues to lead to false teaching within the church today regarding money. Let us reason together beloved as we go through Dr. Williams' arguments.
"The poverty spirit is the biggest scammer of all time. I believe God Himself planted into the human heart a desire for wealth. After all, in Deuteronomy 8:18a (KJV), we were told to "remember the Lord thy God: for it is He that giveth thee power to get wealth." And, in context, it was referring to physical, material wealth." -- Dr. David Williams
Let me start with the obvious. There is no "poverty spirit." Not as it is being presented within Charismaniacal circles. There is no reason to super-spiritualize the human condition or over-spookyfy it. Rain falls on the just and the unjust. Furthermore the notion that God planted in the hearts of man a desire for wealth is contradicted by the Word of God. Repeatedly God warns us about wealth. He even goes as far as to bemoan how difficult it is for a rich man to even enter the kingdom of heaven. This highlights the church's obsession with earthly prosperity when what we ought to be reinforcing is the eternal prosperity only found in Christ Jesus. Notice here he only quotes half of the key verse today because the second half of the verse reminds us that this is part of the Torah. This is God giving His law to His people. The covenant the key verse refers to is the Abrahamic Covenant. We as the church are under the New Covenant. Now, all good things still come from the Lord so if you happen to find yourself wealthy then praise the Lord. If you happen to find yourself impoverished -- praise the Lord. The thing that should be constant is praising the Lord and godly contentment:
Not that I am speaking of being in need, for I have learned in whatever situation I am to be content. I know how to be brought low, and I know how to abound. In any and every circumstance, I have learned the secret of facing plenty and hunger, abundance and need. I can do all things through him who strengthens me. -- Philippians 4: 11-13 (ESV)
Plenty, hunger, abundance, need. It matters not when we are in Christ. By all accounts the Apostles were not rich men. They left everything they had to follow Jesus. The church needs to stop pointing people back to this world and get back to the Gospel and pointing people to heaven. Dr. Williams continues:
'"Do you think God would rather see the false cult leaders, the whiskey producers and drug dealers enjoy wealth rather than His people who love Him? Do you believe God chooses some to be wealthy and others to be poor? Jesus said in Matthew 7:11 (MEV), "If you then, being evil, know how to give good gifts to your children, how much more will your Father who is in heaven give good things to those who ask Him!"' -- Dr. David Williams
For starters this is a forced choice question with two answers that has a third answer. Maybe He wouldn't want either to be wealthy. God does not care about money the way Dr. Williams presents Him here. Let us look at some topical church examples to debunk this point. One of the worst false teachers alive today is Kenneth Copeland. Yet Copeland is worth in excess of 600 million dollars. Joel Osteen wouldn't know the Gospel if it hit him in the head and yet he is worth in excess of 30 million dollars. Does anyone seriously think that God chose for them to be rich by making merchandise off of His sheep? Money and wealth are carnal benefits of this earth. We are supposed to be pilgrims and sojourners through this earth. So does that mean we are supposed to be poor? No beloved but we are supposed to be content in all situations and indifferent towards the things this world exalts.
"Wealth is a good thing; not a bad thing--unless we put it first, loving money more than we love God. It seems like a paradox, but the truth is, the people who bite on get-rich-quick scams usually suffer from a poverty spirit that comes from not knowing or applying God's Word." -- Dr. David Williams
The assumption always made by pro-wealth Christian is that money can be controlled by the flesh instead of the other way around. That it can be avoided as an idol in our lives. Yet the Bible teaches us that we cannot serve two masters. The Bible warns us how difficult it will be for the rich to enter heaven at all! The rich young ruler went away sad because he could not part with his money, even for God. I am not saying that one cannot master money instead of being mastered by it but the Bible makes it clear this is the exception and not the rule. Dr. Williams presents it as simplicity, which it most certainly is not. He continues:
"Matthew 25 tells us about three men, each given the responsibility of handling the master's money, each according to their ability. One got five, another got two and another received one. Two of the men doubled the money in business and investments. The other guy did nothing. The fellow who did not even try to increase the money given him eventually had everything taken away. He lost it all. This is exactly the result of harboring a poverty mentality. It steals, it kills and it destroys. It darkens dreams, kills plans and destroys the future of its victims.
Profit is not a sin; neither is it carnal. Profit, achievement and productivity are virtuous attributes in God's eyes." -- Dr. David Williams
Ugh. If you read the Parable of the Talents and surmise it is about managing and investing money then I suspect that you are already like the rich young ruler. Remember it is a parable beloved. The Parable of the Fig Tree is no more about figs than the Parable of the Talents is about the talents (money). It is about being about the King's business. The most valuable commodity entrusted to us is the Gospel, not money. God gives us everything and the lesson here is what are you doing with it and why are you doing it. The problem with the "other guy" is more about his view of his God as being mean and capricious. He was motivated out of fear instead of knowing who he served. There are far too many Christians who bury their salvation in the ground as this last servant did with the money his master gave him. They play church every Sunday but one day they will be asked what they did with the riches entrusted to them in knowing Christ Jesus. Dr. Williams' summation here is silly. So the final servant had a "poverty mentality?" Really? He thought God reaped where He did not sow and you think that equates to thinking like he wants to be materially poor? Again, ugh.