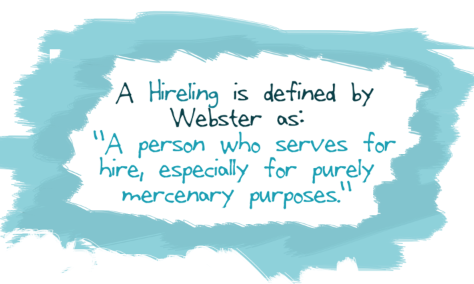 I am the good shepherd. The good shepherd lays down his life for the sheep. He who is a hired hand and not a shepherd, who does not own the sheep, sees the wolf coming and leaves the sheep and flees, and the wolf snatches them and scatters them. He flees because he is a hired hand and cares nothing for the sheep. -- John 10: 11-13 (ESV)
https://careynieuwhof.com/7-things-that-get-harder-as-your-church-grows/
We have written before regarding different "Christian" leadership gurus who have taken the purpose driven model of church growth and placed it on steroids for up and coming pastors. The teachings are usually carnal in nature and filled with the human wisdom that the Bible says we ought to avoid. It is always couched in the most pious of terms. It is always about "reaching more for Jesus" but they never stop to examine what Jesus they are reaching people with. The Bible teaches us that people can place their faith in false christs and false gospels that can only lead to false salvations. This is how so many people will stand before our Lord and Savior on the last day after serving in churchianity their entire lives only to discover He never knew them.
A simple example would be someone who fell under the false prosperity and word faith teachings of Joel Osteen. After hearing nothing about their sin and need to repent they are led in a quick and dirty three sentence prayer and told they are saved. They spend decades at Lakewood serving and loving the false christ they were led to. To the natural observer -- they love God. The problem is He never knew them to begin with. The Purpose Driven Church teaches unbiblical practices and normalizes them in order to "grow the church." The problem is that they do not stick to Scripture so while their individual church may grow that does not mean the actual kingdom is growing at all. The fact that Osteen can pack 55,000 people into a service is a sign of worldly approval, not divine blessing. One of the leadership gurus we often refer to is Carey Nieuwhof and his latest article can be found at the above link. This article is about the seven things every leader of a growing church or organization struggles with. I have eliminated four of these items from this discussion for different reasons. The first elimination is the notion that you cannot know everyone's name. It just seemed a rather silly point to make. The next two eliminations are leading leaders instead of people and learning to say no. There is no need to discuss these in depth because it is redundant in the article. It is all part of the pastor moving further away from the sheep, as you will see. The fourth elimination is related to having organizational systems in place and to that I would agree with Mr. Nieuwhof. God is a God of order, so long as your systems to not dictate whether people actually are served. The remaining three items however provide a frightening insight into how modern day pastors are being warped in their thinking. They are the core of purpose driven leadership training. Remember, Nieuwhof is a sought out mentor on leadership within the church. People pay him for this type of advice and counsel. Let us reason together beloved and see that what he is creating is a generation of hirelings, not pastors.
"I'd be the first to admit that I'd rather be part of something that's growing than something that's stuck or dying, but growth doesn't mean your issues disappear. What's true in church is true in any organization or business." -- Carey Nieuwhof
There are two glaring points from his brief introduction. First of all he all but admits that he equates running a church to running a business. Yet what is true in business need not be true within the church and one can make Scriptural arguments that it should not. The pastoral role is not supposed to be that of a CEO, despite what Rick Warren and the Purpose Driven Church would teach you. Break it down reasonably beloved. A business has a product. What would the church's product be? Christ? Eternal life? Salvation? These are not tradable commodities. Yet the purpose driven model does not even market these as the product. Instead it is relevance. It is temporal blessings from the Santa-Jesus they sell. It is entertainment through carnal worship and experiences. It sells a cult of personality with a charismatic speaker who relates to you where you are at. Do you think 55,000 people show up at Lakewood because Joel Osteen preaches the Gospel? No. It is because he tells them exactly what they want to hear with a little "god stamp" of approval. But Lakewood is a fine oiled business machine; make no doubt about it.
The second problem here is the assumption that unless there is exponential growth then something must be "dying" or "stuck." In the carnal world of business this might be true but not in the realm that God operates in. To Carey Nieuwhof everyone should have a mega church. Not according to God however. Acts 2 makes it crystal clear that God alone is responsible for the horizontal growth of the church. The pastor is responsible for the vertical growth of the sheep the Lord has entrusted to him. So if God gives a pastor 200 sheep and another 50, neither of them are performing badly if those numbers stay constant, increase or dwindle. The only true metric of pastoral success is the relative maturity of the sheep he shepherds. Nieuwhof continues:
"1. The senior leader being less available - As your church grows, you need to begin a transition away from being available all the time. If you don't, you will implode or your church will stop growing. You can be generally available to 20 people. You will wear yourself out trying to be consistently available for 200 people. You'll die trying to be available to 2000 people. Frankly, you'll never even serve that many people because it's humanly impossible, even if you worked 7 days a week, 20 hours a day. People will just walk away, their calls unanswered and their needs unmet." -- Carey Nieuwhof
So according to Nieuwhof and purpose driven teaching, as a church grows the more distant the shepherd is supposed to be from the sheep? Beloved there is a reason why Jesus gave us this analogy of shepherding. There is not a sane shepherd in all of history that would distance himself from his sheep if he got more sheep to be responsible for. He cannot even fathom being there for 2000 people! He thinks you would die if you tried! That is what happens when you are relying on yourself and carnal means instead of the Creator of the Universe. God runs the church! If you think that you cannot shepherd 2000 people then it is time to raise up a leader to plant another church so that all sheep can be tended to. Therein lies the fundamental disconnect that Carey and purpose driven leadership gurus suffer from. The role of the church is to tend to the sheep -- not constantly be looking for new sheep. As we pointed out already, God decides who is added to the number. Tend to the sheep and preach the Gospel so that any unsaved people hearing it might be drawn by the Spirit. Romans teaches us that only the Gospel has the power of eternal life to save someone. Not our little cults of personality, marketing schemes, and slick packaging.
"As my friend Reggie Joiner says, the problem with needs-based ministry is there's no end to human need. Your church will struggle with the pastor being less available as it grows. But it will struggle even more if you don't restructure to grow bigger. To reach more people, you need to be available to fewer people." -- Carey Nieuwhof
What twisted and carnal reasoning is this! In order to reach more people you must ignore more? Or delegate them to other people who have not been called to shepherd the sheep? Absolute unbiblical nonsense. It is sadly ironic that he believes that there being no end to human need is a problem when it is the reason pastors exist! But again, his eyes are not on the sheep beloved. They are on the next batch of goats he can convince to say the magic three sentence prayer and show up each week. Does the Bible teach us that pastors need to be available to fewer and fewer sheep? Hardly: