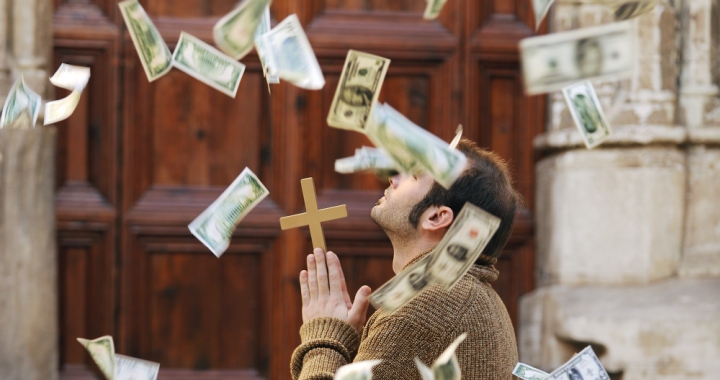 The Lord watches over the foreigner and sustains the fatherless and the widow, but he frustrates the ways of the wicked. -- Psalm 146: 9 (NIV)
Open your mouth for the mute, for the rights of all who are destitute.Open your mouth, judge righteously, defend the rights of the poor and needy. -- Proverbs 31: 8-9 (ESV)
http://thekingsrights.com/welfare-is-theft-not-christian-charity/
To be honest beloved when I first came across the article linked above today I did not plan on writing about it because it was a year old. Secondarily, it was so vile and disgusting as an obvious political shill article wrapped in Jesus that I assumed it was low hanging fruit for discerning Christians. Then I saw the article later in the day and read some of the responses to the posting that showed how wrong I was. It saddens me that I would have to even deal with this but apparently some people still read the Gospel and think Jesus was somehow against the poor. Such is the case from the article linked above by someone named Matthew Travis, entitled: "Christians"Welfare Is Theft, Not Charity." The title alone should make you cringe as a Christian but the details are far far worse. Let us hold our noses and reason together and hopefully dispel this garbage once and for all.
"John Kasich once said that when he got to the pearly gates Peter probably wouldn't ask if he made government smaller. Instead, he thinks Peter would ask if he performed the noble deed of expanding the government, by increasing the welfare state and its dependents." -- Matthew Travis
Never a good sign when an author opens with an easily fact checked bald faced lie. Kasich, and I am no huge fan, said that he will be asked what he did for the poor. Anyone who follows politics knows that John Kasich is hardly a supporter of welfare and expanding government. What we see here however is the underlying beliefs of Matthew Travis. To him any help for the poor at all must be deemed as expanding government and increasing the welfare state.
'This understanding of Jesus' teaching is absurd. Governments with too much power and control over their citizens have killed tens of millions of people just in the last century. It's not unreasonable to assume Peter, and Jesus, might believe it a noble cause to reduce the power and influence of government. Also, I think it's pretty clear that Peter will not be interested in how many welfare programs John Kasich supported. The bible contains zero evidence that Jesus would support an involuntary, government run, inefficient "charity."' -- Matthew Travis
So in the mind of Matthew Travis, defending the rights of the poor is absurdly not close to the teachings of Christ? Seriously? Has even read the Gospel? The two key verses today show that Travis is absurdly wrong. Before you start with the fact that these are from the Old Testament, we believe God inspired all Scripture and Jesus is God so therefore these are also His words. In the verse from Psalms, the poor are represented by the fatherless, foreigner and widow. Notice how Jesus refers to those who would oppose helping them? They are the wicked. The Proverbs verse only further drives the point home that we are not only to support the cause of the poor but defend them as well. While I agree that Peter (God) will not be concerned about how many welfare programs we supported He will be very interested in how we took care of the least of these. Travis then launches into a strawman argument by pretending that if you support helping the poor, then you must support involuntary, government run, inefficient, charity. Now this may be how you view welfare because you routinely get your opinions from people like Matthew Travis. Our view of what our government does well or poorly does not change Scripture beloved. If we are so dissatisfied as citizens then there are lawful avenues to try and correct what we might see as injustice but we may want to truly check Scripture first.
'Paul Said, If You're Not Willing to Work, You Don't Get To Eat. The apostle Paul speaks of grace over, and over, and over in his writings to Philemon, the Ephesians, the Corinthians, the Thessalonians, etc. But even Paul said not to allow leeches to feed off your charitable deeds. He preached that giving to the lazy, at the expense of the community at large, was irrational and possibly sinful. In 2 Thessalonians 3:6-15, Paul explains the example he set by refusing to "eat anyone's bread without paying for it," and he "with toil and labor"worked night and day, that [he] might not be a burden to any of [the Thessalonians]." He went on to make an even more serious claim. He wrote, "for even when we were with you, we would give you this command: If anyone is not willing to work, let him not eat."' -- Matthew Travis
This is the one verse that anti-governmental Christians seize upon to insist that the poor get what they deserve. Let me first address the hermeneutics. We do not make doctrine out of singular verses that are not widely supported elsewhere in Scripture. That is what false teachers engage in through proof-texting. Any fair reading of the entire canon of Scripture must leave one with the clear understanding that God cares very much about the cause of the needy. It is in fact that second most discussed topic after salvation. It is what is required of us in Micah. God even instructed the Israelites to not glean from their lands edges so the poor might have something to eat. When He speaks about the light of the fatherless and widows He means the poor. The entire ministry of Jesus was walking among the marginalized. The two key verses are only two of hundreds that support this. What then do we do with this one verse? We exegete it correctly to see what Paul was speaking about.
Now we command you, brothers, in the name of our Lord Jesus Christ, that you keep away from any brother who is walking in idleness and not in accord with the tradition that you received from us. For you yourselves know how you ought to imitate us, because we were not idle when we were with you,nor did we eat anyone's bread without paying for it, but with toil and labor we worked night and day, that we might not be a burden to any of you.It was not because we do not have that right, but to give you in ourselves an example to imitate. For even when we were with you, we would give you this command: If anyone is not willing to work, let him not eat. For we hear that some among you walk in idleness, not busy at work, but busybodies. Now such persons we command and encourage in the Lord Jesus Christ to do their work quietly and to earn their own living. - 2Thessalonians 3: 6-12 (ESV)
The first thing we must recognize is this is not written as a command doctrine for all of humanity. It is written specifically for believers. If it were meant for everyone it would have been part of the moral law, which was carried over into the New Covenant. No beloved, this was written to the church at Thessalonica. The early church was far more communal than the anti-government crowd will ever admit but one just needs to read Acts. People gave everything they had to the community of believers. Even when Paul takes an offering it was for the brothers suffering due to a famine in another location. As one would expect, some people began taking advantage of this situation and took from the community without giving anything. Paul is stating the cause against idleness here not making some doctrinal statement on the righteousness of governments that might try and help their poor. Let's see how low Travis is willing to go:
'"This command" directly conflicts with handing out money or goods via a government program that cannot accurately account for ones work ethic, or lack thereof. It shows that it is not immoral to allow people to starve if they won't make an effort to feed themselves. In fact, Paul even says of those not willing to do their part in the community, "do not associate with them, in order that they may feel ashamed." Yes. Those taking monetary, nutritional, housing, etc. donations should feel "ashamed," if they're not doing what they can to help themselves and, or, their community. It Seems Jesus May Have Agreed that Welfare Is Theft, Not Charity.' -- Matthew Travis
Wow, wow, wow. So this alleged Christian thinks that God is saying it is ok to let people starve to death if they refuse to work? Seriously? No wonder so many view the church as filled with hypocrites. Jesus loves you! Get a job you bum or starve to death! Also here, the statement from Paul is not a command and it certainly does not conflict with government run welfare. Paul is providing individual instruction to Christians not global advice to world leaders. I am not sure where Travis sees the word "ashamed" but that was not the point either. His point that those taking monetary, nutritional, or housing donations should feel ashamed reveals more about the blackened heart of Matthew Travis than anything else. Shaming the poor in the name of Jesus Christ is despicable. Then to make the insane leap in illogic to pretend that this somehow supports the notion that Jesus may have agreed that welfare is theft and not charity is beyond despicable. It is disgusting on a level hardly seen.